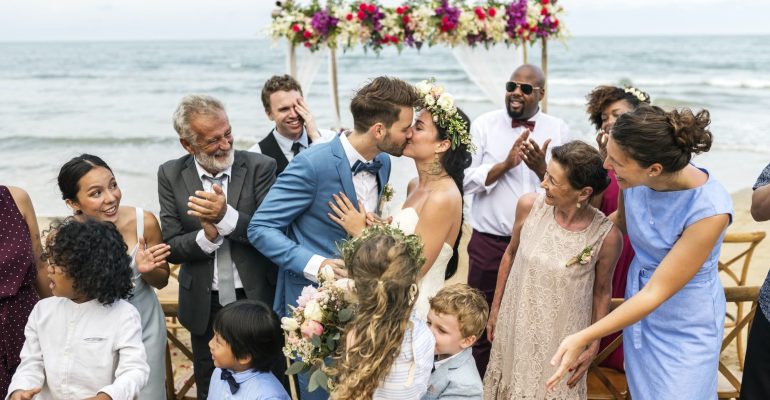 "but what will i wear?" we have suggestions...
As we move into wedding season 2022 you'll probably be getting several wedding invitations in the mail, okay probably more than several. With weddings being postponed in 2020 and most of 2021, 2022 and 2023 are going to go OFF and I'm sure that you, just like us, are jumping on Amazon and searching "wedding guest dresses." We have put together a list (with links!) of dresses that can be found on Amazon that are size inclusive and all under $50! This blog isn't sponsored, we just hope to take the wedding guest outfit stress off your shoulders.
Black Tie Wedding – linked here
Black tie weddings can be super intimidating. Usually this means that the bride and groom prefer you to wear a floor length gown. This dress is the perfect amount of formal and sexy but not so formal that you look like you're running for prom queen. Even better, it's under $50! One-shoulder styles are the newest trend for summer 2022. It comes in a variety of colors all that would be more than appropriate for any season and the slit accommodates for warmer weather . We're also here for the size inclusivity! With a 4.5 out of 5 star review on Amazon it is sure not to disappoint.
Garden Wedding – linked here
Garden weddings are the best time to incorporate blushes, sages, and of course florals. These types of weddings are great because it allows for shorter dresses. If you wear this dress to the next wedding you're attending, you'll no doubt turn some heads. At just $39 this dress is not only affordable, it's trendy too! It has a 4 out of 5 star review on Amazon and we're confident you will fall in love if you decide to order this piece!
Destination Wedding – linked here
Destination weddings allow for brighter colors and fun prints like yellow, green, orange and vacation prints. The spaghetti strap style along with the slit allows for warmer venues and the tie front knot makes for such a cute look. The biggest thing we like about this dress is its formal enough for a wedding, but casual enough you can totally wear it again! This dress has a 3.5 out of 5 star rating, but don't let that scare you. The reviews are raving!
Whatever you decide to wear, the most important thing is that you're comfortable in yourself because confidence elevates every look! So remember, go to the wedding, celebrate the people you love, eat the cake, drink the wine and have the time of your life.